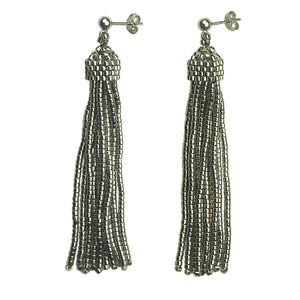 Hand beaded medium tassel earrings made with electroplated Palladium Japanese glass seed beads.  4mm ball studs in Sterling Silver with patina to make tassel.
These earrings are 2 5/8" long from top of stud to bottom edge of tassel fringe.
*Palladium is a lustrous silver/white metal, appearance a bit darker/grey than Sterling Silver.