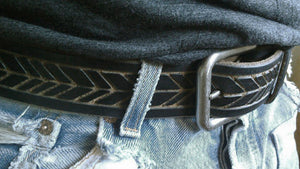 Hand-carved top grain "Black" dyed 9oz leather belt, with "Feather" pattern exposing "Tan" under layer.  This one-of-a kind belt has a continuous pattern carved the circumference of the 1 1/2" wide leather.  The belt buckle is heavy Antique Nickel Plated brass in a sling style.  This style's leather belt can be removed and worn with the other buckles, via the convenient double snaps.
Sizing Chart : 
Small, pant size 28" - 30"
Medium, pant size 32" - 34"
Large, pant size 36" - 38"
XLarge, pant size 40" - 42"
This design is hand-made to order, please allow up to 5 weeks for delivery.  If you are looking for custom sizes, or have additional questions email lola.laurel.griffin@gmail.com